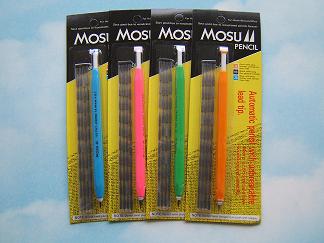 This is a specialty article which we have sold to Retailers who carry Graphic supplies for Artists, Architects, and Engineering Draftsmen.
There are 10 pre-sharpened lead points in a tube inserted into the barrel of the pencil. When the point loses its sharpness, pressing
the plunger ejects the old point, which is replaced by a new sharp point instantly ! The lead points are so hard that they are almost impossible to break.
Packaging:
1 Filled "Mosu" with 4 refill tubes (each with 10 points) packaged in blister card.
There are assorted barrel colors.
Please Note: We accept orders for particular colors.