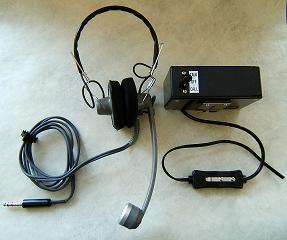 HANDS - FREE INTERCOM - HEADPHONES
Amplifier has clip for attachment to belt or pocket.
Simultaneous 2 - way conversation (like a telephone) up to long
distances on a ordinary 2 - conductor wire.
Requires 2 "AA" Batteries in each unit, no outside power.
Up to 5 Units may be on the same line.
(Common -talk, Common - buzz)
Built in Buzzer Code.
Terminals illustrated above are standard, on request we can provide Phono - Terminals.